The Team
Successful online businesses need strategists, architects, analysts, designers, developers, marketers, evangelists, managers and operators. Some members of our 20+ team are one of these, others are many. We're headquartered in an office in south-west London but additionally have several members of staff operating remotely in the UK and across the world.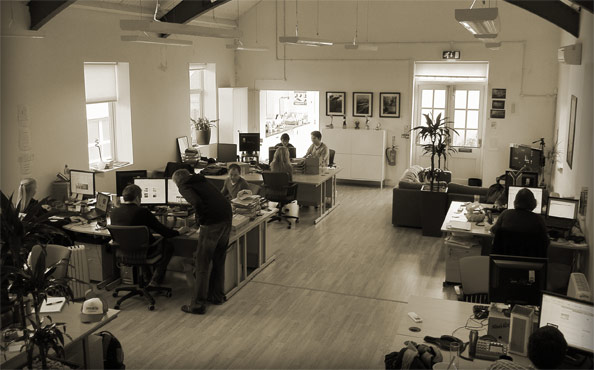 Directors
Richard Atkins
At his core, Richard is a result-driven analyst and strategist, always seeking to use his analytical and critical skills to ensure that the most beneficial goals are being targeted and that all the interim steps are in harmony with that strategy. On a more practical level, as well as being responsible for many technical implementations, he is a web business performance measurement and search engine marketing specialist.
Richard grew up in South Africa after spending the first five years of his life in England but has lived in London for the last decade. He is a barrister with a Postgraduate Diploma in Law from the College of Law (2004), and earned a Bachelor of Business Science (Information Systems Hons) from the University of Cape Town (1998).
Andy Wood
Driven by the urge to make cool stuff from an early age (perhaps something to do with being an only child and spending hours building a giant Lego city as a boy), Andy is a creator, fascinated by the challenge of developing strategy and then architecting solutions that can deliver on that strategy. Part artist, part scientist, he brings strategic, creative and technical direction to many of our projects.
Born in Zimbabwe, he grew up in Durban, South Africa, and graduated from the University of Cape Town in 1998 with first class honours in a Bachelor of Business Science (Information Systems). He moved to London to pursue a career in the online world in 1999. Before Nevado absorbed his creative energy, he dabbled with writing novels in his spare time.
Craig Turner
Craig is a pragmatic implementation expert, always ensuring that project needs are broken into their realistic components solvable by realistic and practical technical solutions. He is the force behind many of our technical solution implementations. He plays golf in his spare time and declares Kiawah Island's Cougar Point to be one of the finest courses on the planet.
Craig has a Bachelor of Commerce from the University of Natal in Durban (1997) and a Bachelor of Commerce Honours in Information Systems from the University of Cape Town (1998).
James Scully
James is the world's most practical designer, valuing usability and effectiveness as highly as creative flair and continuously keeping an eye on technical and other implementation realities. As well as directing our creative efforts, James lends his natural organisational and operational drive to many of our projects.
He graduated in 2000 with a Bachelor of Arts (Hons) in Graphic Design specialising in Interactive Media from Bath Spa University, winning the prestigious Royal Society of Arts Interactive Media Award in his final year.